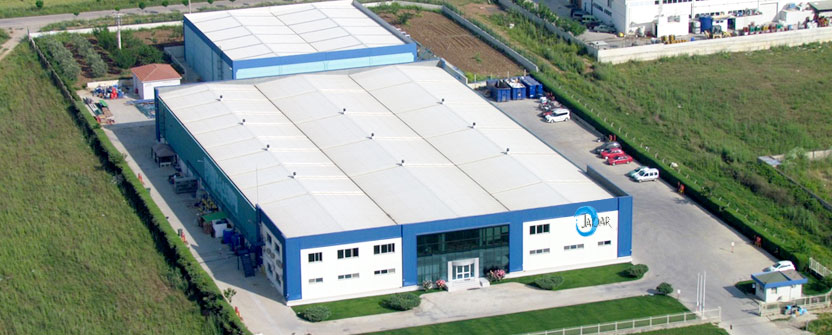 JAPAR was founded in 1986 as a limited company. We offer a complete line of quality plumbing fixtures made of plastic materials and a complete line of their fittings. The first products of our firm were flushing mechanisms for ceramic tanks. JAPAR invented and marketed Turkey's first push buton toilet flush tank in 1986. Each year, with our growing product range, we offer our clients fittings for every type of vitreous china tanks. Investing in plastic injection machines since 1992, our efficiency, manufacturing capacity and product quality have increased.
Our growing concern for the preservation of the limited water resources obliged us to introduce Ekolux Double Push Flush Tank fort he first time in Turkey, in 1998. JAPAR continues to grow and made a move to a new and larger plant in Ayrancılar - Torbalı, Izmir in November 2003.
This move was made necessary by the growing demand and the competition in the global market for a larger center with the most recent manufacturing technologies based on international standards.
JAPAR, started in 2007 the production of the 80 mm. depth concealed cisterns, producing the thinnest concealed cisterns in Turkey, has added one more innovation in the sector.
Yet, our aims are not limited to expansion and modernizing only, rather we meant to carry on forward JAPAR's high-quality, reliable and functional products that compete successfully in the global market.
Affer all, JAPAR knows what it is to be innovative. Today JAPAR is one of the most prominent brand names in the plumbing fixtures industry in Turkey and aspires to attain the same goal abroad.
Since its establishment, JAPAR's policy and manufacturing high quality products have been guided by principles of customer satisfaction, dedication to provide durable and sanitary products, sales and warranty, after - market technical support and delivery in time.
Due to its customer - oriented policy and commitment to high-standard manufacturing, JAPAR is granted ISO 9001 Quality Management System Certificate.
Our Professional staff, computer controlled plastic injection machines and duroplast presses endowed JAPAR with self – sufficiency in manufacturing all plastic equipments. JAPAR converts technology into style and style into hygiene by its unchanging principles.